Viral Internet Marketing Experiment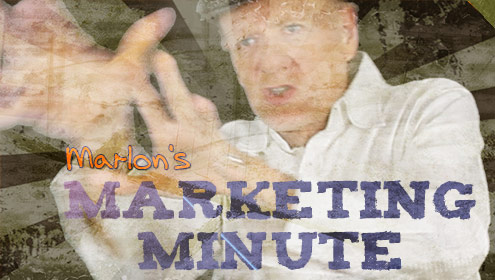 Support | Affiliates | New Product
Give Me 60 Seconds.  Then Try Out My New Method
For 10 Days.  Just Find Out What Happens To Your
Internet Marketing Fortunes — Plus, News Of A
Fascinating Experiment With Viral Internet Marketing

There's a key attitude that makes a big difference in your Internet marketing success, and this week I'm showing you how I'm applying this attitude to test out a viral Internet marketing idea.
Before I get to that, several important updates:

1.  Book of Secrets owners:  You'll find a new implementation video in your member's area, if you haven't seen it  yet.
2.  Profit Planner owners:  You'll find follow up newsletter #2 in your member's area.
3.  Level One owners:  2 weeks ago I did a complete update on many of the modules.  If you haven't checked out the content recently, log in!  There are many updates and enhancements in the content.
There is one simple shift in your thinking you can make that will create a dramatic difference in how you approach your Internet marketing and result in greater success.
This shift is so simple but it has big advantages.
First of all, let's look at common problems some people run into:
1.  Running into the 10-day barrier
It has been my observation, even in my Level One program, that MOST people have a serious problem focusing on one plan of action for longer than 10 days.
The problem is that Internet marketing profits don't happen overnight.  Successful lead generation systems don't grow overnight.  You need time and…this is the key word….experimentation.
2. As a result of the 10-day barrier, going into research only mode
What happens is people try out some idea or method for10 days. They don't see IMMEDIATE results.  They get discouraged.  Then, they go into "research-only" mode and stop TRYING things. This guarantees they won't truly learn anything new.  You only learn and know what you DO.  The path to knowing is doing.
This isn't "bad."  It's not "wrong."  It's just not likely to lead to success.  There IS a better way we'll discuss shortly.
3.  This leads to a frantic search for new bright and shiny objects that will get immediate results in the 10-day window.
Unfortunately, most Internet marketing methods won't succeed within 10 days.  That leads to a perpetual cycle of non-success and obsessive buying and learning without results.
Fortunately, there IS a solution to The 10-Day Success Killer
Here's the mental shift:
Change your mental attitude to one of curiosity and performing experiments.  This is the REAL secret behind a term you might have heard of called "split testing" where one thing is tested against another.
But that is a VERY limited view.
The REAL SECRET here is the attitude of CURIOSITY and EXPERIMENTATION.
My friend Daegan Smith exemplifies this.  Daegan is always curious and asks, "I wonder what would happen if we did this or tried that?"
He tries different ideas out of CURIOSITY, knowing full well 7 out of 10 of them probably won't bear fruit.  But the 1, 2 or 3 that DO work make up for the others that don't many times over.
By the same token, curiosity without knowledge can be a waste.  There's a balance here between doing what works and what is known to work and doing experiments with a chance of success.
Let's see how this attitude solves the problems:
1.  The 10-day barrier
If you see yourself as performing experiments, some of which will work, many of which won't, then you won't get discouraged after 10 days.  You see yourself as LEARNING constantly.
2.  Research Only Mode
You avoid going into research only mode because you ARE performing experiments NOT just learning.  The REASON people go into research only mode is simple:
FEAR OF MAKING MISTAKES
That is the #1 thing that holds MOST people back from taking the levels of action required to succeed.  But when you switch your brain to the "conducting experiments out of curiosity" mode, THEN you know you can't make mistakes because you really ARE performing experiments.
Do you see how that one simple mental shifts TOTALLY changes the paradigm?
All of a sudden instead of feeling paralyzed by the paralysis of analysis, you're free to spring into action and discover things.  And THAT is where the fun, joy and excitement is anyway — in making new discoveries.
A lot of people get so caught up in HAVING to make it work right now, that they kill their success because they don't allow for the prerequisite curiosity and  experimentation that LEADS to success.
3.  Instead of frantically searching for something that will "succeed" in the 10-day window, you perform the next logical experiment
This is a total mindset shift.
You free up your thinking to take the levels of action you need in order to succeed (reference the 10X Rule by Grant Cardone).
If you'd like to discover more about this mental attitude, I recommend the book THE MAX STRATEGY by Dale Dauten.  It's a fast, easy read.
The ironic thing is, this mental shift is one that CAN produce results within 10 days.
Some people feel that almost all learning is a waste of time and you should spend virtually all your time doing.  I don't see it that way.
I am a STRONG believer in doing, creating, and promoting.  The only thing that separates us from monkey is our ability to learn.  That's why I agree with Charlie Tremendous Jones that leaders are readers.
I see a balance between reading, learning and taking action.
Your own personal balance on that continuum is up to you.  I DO know that the 10X Rule says you probably need to DO 10x more than you THINK you need to do!  That means you need to allocate sufficient time to actioni, curiosity and continual experiments.
If this mental shift helped you, please post in comments, like, share and tell others about this issue.  Your sharing of the word is duly noted and appreciated.
Finally Here Is MY Big Experiment Of The Month
With a New Viral Internet Marketing Idea

In the attitude of this issue, I have an experiment I'm running on viral Internet marketing.
The BIG IDEA is that people can promote and get a chance to win my $997 Cash Like Clockwork System WITHOUT having to join anything.  You just add your email address to the url and promote it.   No affiliate commissions are paid.
I have no idea if people will promote this or not and if it will work or not.  It's a big experiment.
URL:  http://getitgoing.com/final.html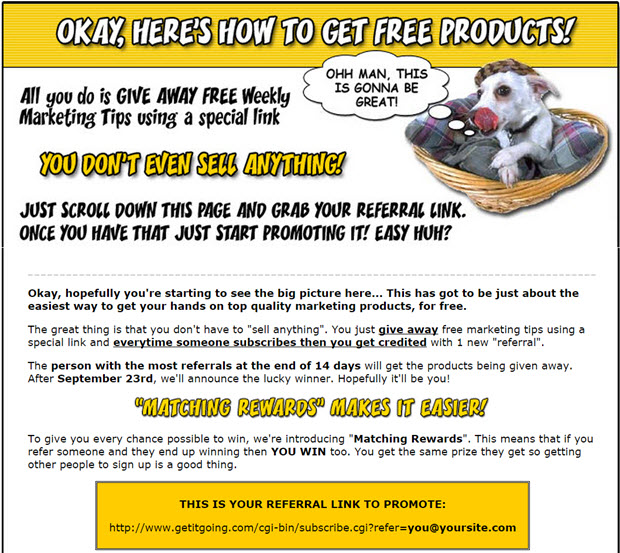 .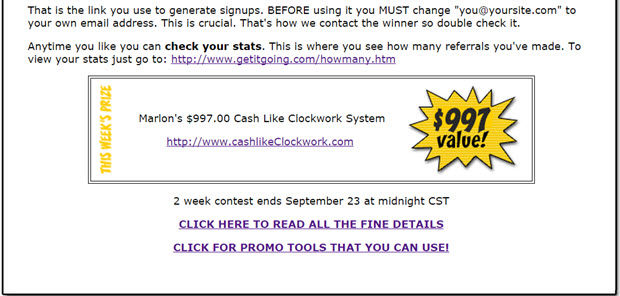 For promo tools, we have some fun banners you can use: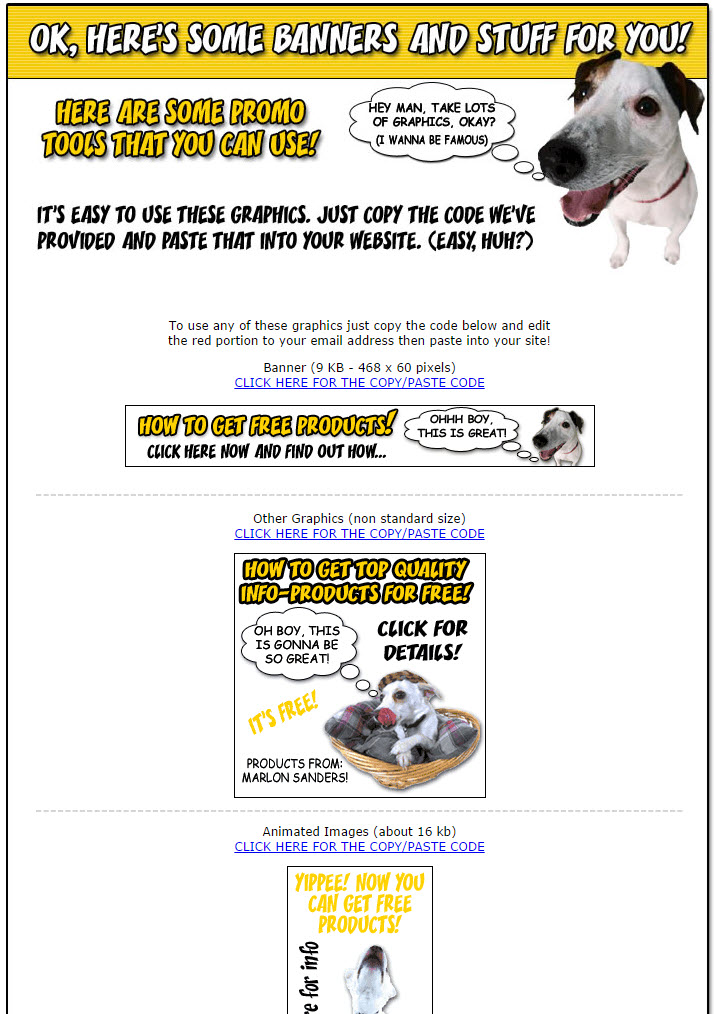 I have NO IDEA if this will work or not.  It's a shot in the dark to see if "non-affililates" are willing to spread the news on Facebook, Twitter, Linked In and forums for a chance to win a really great prize.  Who knows?  I've dubbed it my VIRAL INTERNET MARKETING experiment!

Marlon Sanders
PS:  Your likes, COMMENTS, Facebook and Twitter shares are GREATLY appreciated  and noticed!
====================
RESOURCES FROM MARLON
====================
Get all the basics on how to do graphics the REAL WAY using PSD's from Photoshop Elements, so later you can graduate to full-blown Photoshop. This is very basic but really, really good training in just the core stuff you need to START OUT with. This is training wheels for graphic design. You won't become a pro overnight. But this gets you on the RIGHT PATH and that is the PURPOSE. We updated screen caps last year. None of the basics in Photoshop Elements change much. You got a lasso. Paint bucket. Patterns. Gradients. This is what we teach here. BASICS. To me, if you're really SERIOUS and don't want to just hire out all graphics, you need this.
http://www.designdashbooard.com
Get "training wheels" to walk you through my famous 12-step formula I taught around the world in 120 seminars Fill in the blanks and click a button.
The ORIGINAL fill-in-the-blanks letter software. This is NOT about magically creating sales letters. It's like TRAINING WHEELS for my 12-step formula to FORCE you to use it and walk through the process mentally. I found in teaching this in 120 seminars that people would not actually DO the formula I taught. So I decided to create a way to FORCE FEED it. THAT is why I created Push Button Letters that then spawned the whole entire genre of sales letter creation software, MOST of it sold as a magic pill without understanding the GOAL which is to get you to MENTALLY PROCESS and walk through a precise, step-by-step FORMULA.
http://www.pushbuttonletters.com
The exact things I taught a new employee to get him up to speed on all this marketing stuff in 30 days. And will get YOU up to speed on the absolutely criticall basic knowledge also. Get up to speed FAST with the in-house training I gave one of my new employees. I love this product. To me it's Evergreen. The stuff I teach here is what I feel is absolutely VITAL for anyone to know, including a new employee, new customer or whoever. That includes you. This is BASIC but powerful training. I find a LOT of people miss the BASICS, so they get no value from other stuff they buy. You HAVE to put in your basics FIRST.  A few of the software recommendations are dated. But 90% to 95% of it is Evergreen.   http://www.themarketingdiary.com
Want to know how I got 30,000 affiliates to promote me? I love this product also. It's how I got several million people to my websites.   It includes the steps, the documentation, everything. Now, yes, I did this product some years ago. You'll find out the things I do, teach and believe in are EVERGREEN. The answer is NO. It's not outdated. YES, everything in it STILL applies. Do I STILL use everything you'll read about it in it. It's my BLUEPRINT for a highly successful affiliate program. Check this puppy out:
http://www.1in102.com
Need a target market? http://www.pushbuttontargetmarket.com
If you're struggling to find a target market, I think this can help. It isn't the ONLY thing you need. It isn't like "the answer." But I really think if you delve into the tool it talks about that you can really gain a deeper understanding of what is SELLING in the market. That is the purpose of it.
Money Getting Secret: On December 3, 1998, I Discovered A "Money Getting" Secret That I've Repeated 122 Times — And You Can Use This Same Secret Starting 2 Hours and 58 Minutes From Right Now! http://www.marlonsanders.com/writerssecret/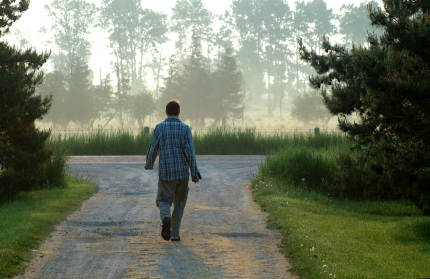 The Road Not Taken
Two roads diverged in a yellow wood,
And sorry I could not travel both
And be one traveler, long I stood
And looked down one as far as I could
To where it bent in the undergrowth;
Then took the other, as just as fair,
And having perhaps the better claim
Because it was grassy and wanted wear,
Though as for that the passing there
Had worn them really about the same,
And both that morning equally lay
In leaves no step had trodden black.
Oh, I marked the first for another day!
Yet knowing how way leads on to way
I doubted if I should ever come back.
I shall be telling this with a sigh
Somewhere ages and ages hence:
Two roads diverged in a wood, and I,
I took the one less traveled by,
And that has made all the difference.
Robert Frost
If you got value from this Marlon's Marketing Minute newsletter about viral Internet marketing, please tell me in comments, then like and share.