Blog Marketing Tips and Secrets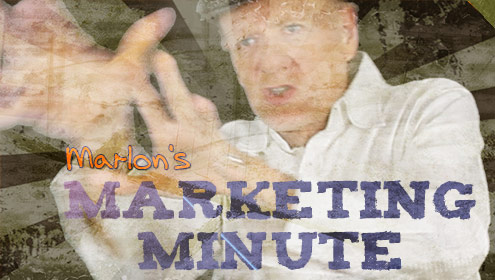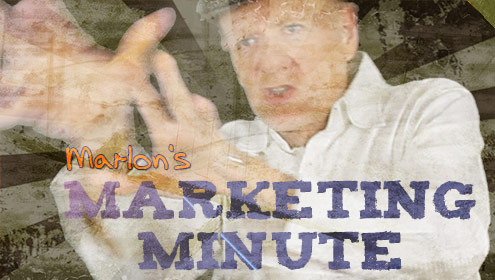 Blog Marketing Edition | July 19
Support | Affiliates | Customer Login
Blog Marketing Tips and Secrets — Behind-the-Scenes SCOOP on the blog you're reading right now!  Including how to know if your blog is BLOCKED from Googlebot, what you MUST know about sitemaps, and how to find out if your blog is SABOTAGED (Mine WAS!)
Hello,
Marlon here.
If you want a PDF of today's newsletter, post a comment below before 11 p.m. CST July 21 and that night Lorraine will send you the PDF to the email you use on your comment.
=======================================
First of all, important CUSTOMER NEWS AND UPDATES:
=======================================
1. Push Button Target Market — I've added a welcome video plus a SECOND video to help you choose your target market. And I did an update on the core video since the URL and look of the Secret Site changed. Oh, I also added TWO PDF's for you!
2. Fast Start System — I removed references in the traffic video to creating custom audiences on Facebook since they cracked down on that practice. I no longer recommend you do that. Other than that, I plan to add a few additional resources to help you with choosing your target market and creating your sales message / Value Equation.
3.  Marlon Sanders Success System — If  you are a customer and bought before July 16, you received an invite to a Q & A call.  It was FANTASTIC and the call is now posted in the member's area.  I covered b-to-b marketing using the System, problems in finding a target market, how you get affiliates, how you find hungry target markets — and more.  The next time I do a call like that, it will be $100 because the advice is very customized and spot on. It's really the content of a $1,000 consultation.
4. Book of Secrets and Profit Planner — New updates are coming down the pike.
5. Design Dashboard — Lorraine re-did all the screen caps in the product to match the newest Photoshop Elements version.
6. Promo Dashboard — Newly updated
How to Use Google Webmasters To Find Out If Googlebot Is BLOCKED From Spidering Your Blog and If Your Blog is Secretly SABOTAGED Guaranteeing You Do NOT Get Results (Mine Was!)

Let's dig right in to my secretes of Blog Marketing I discovered the hard way!
1. I found out from Google Webmasters my blog setup was TOTALLY SABOTAGED!
You MUST learn to use Google Webmasters because it will give you data you can't get elsewhere. I found out someone had pulled some shenanigans with Google that caused a black mark on my account. I had to get this REMOVED before I saw any traction at all in Google!
The way you find out about these things is simply look at your notifications.

All you do is sign up for free.
You'll see the messages when you log into Google Webmasters if there are any.  In my case, I found out Googlebot could NOT access my blog!
I was like, "WHAT THE HAY!"  I could NOT figure out why Googlebot could not access my site!  That was really WEIRD!
2.  Find out if your sitemap is set up properly
There are one of two possible reasons Googlebot could NOT access my site.  One is that my SITEMAP was jacked up!  The other was that my site was sabotaged!
First, let's look at the Sitemap part.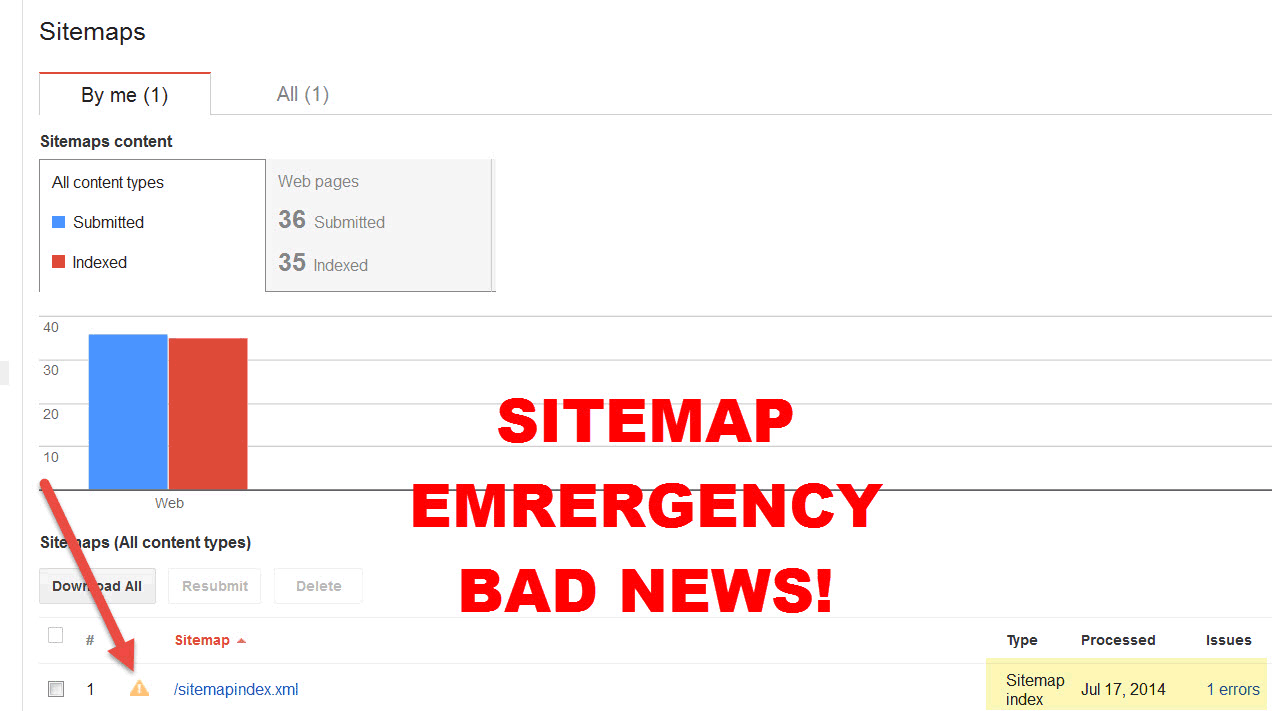 That is what you LOOK FOR in Google Webmasters.  Now, in this case, there is no cause for panic. The error is just one URL included in the site map that can't be spidered.  But BEFORE the actual SITEMAP itself was a 404 error – page not found.  My SEO plugin was SUPPOSED to generate the Sitemap but it wasn't working.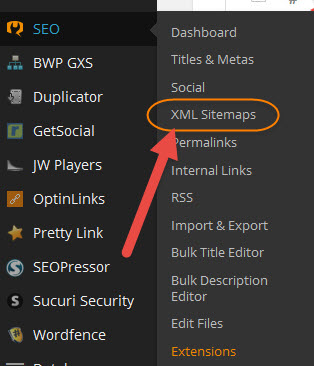 If you use Yoast SEO plugin, then this is where you find the URL for your Sitemap. If you use All-In-One SEO or another plugin, you will still  have a URL for the Sitemap it generations.  The Sitemap tells Bing, Google and other engines where to find pages on your site.
I uninstalled and reinstalled my plugin and, in general, mucked around with it until I got the Sitemap to work and got a green approval in Google Webmasters.  In Google Webmasters, you'll find a Sitemap tester. This is an essential tool for BLOG MARKETING!
3.  Make sure you have a properly set up Robots.txt
I didn't have a robots.txt which shouldn't cause problems.  But I fixed it anyway.  I believe most SEO plugins generate your robots.txt for you.  This is just a little text file located at /robots.txt that tells the bots if they can spider your site or not, and any pages to omit.
Here is my robots.txt. I'm sure pro bloggers pimp theirs out with all kinds of stuff. Mine is just the bare bones. Google Webmasters has a robots.txt tester: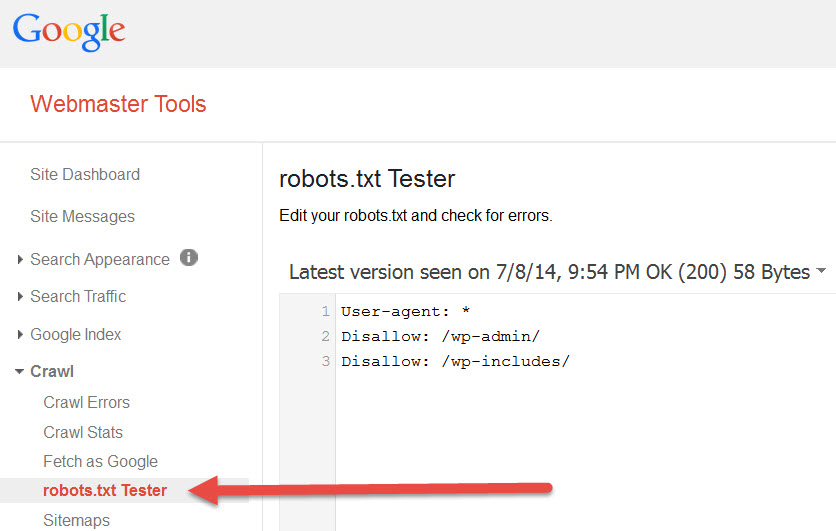 4.  Make sure your site appears in SEARCH!
This took awhile after I fixed all the above and fixed the RED LIGHT I'll talk about in a second.  But FINALLY I knew my blogging was taking effect when I saw that I got a couple search results.  This meant my blog marketing plan was finally taking hold a bit.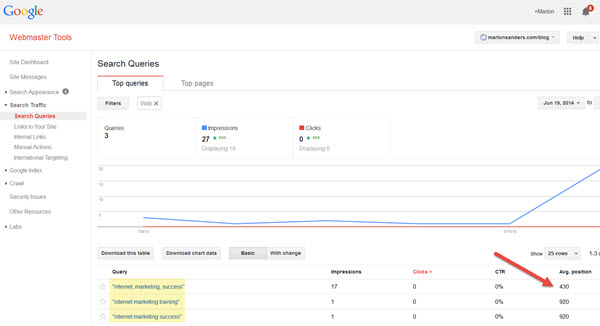 You may not be able to see it that well.  The searches are lame and I'm not high yet in the results.  But the point is, at least the searches are SHOWING UP!  They weren't before.  Keep in mind that I'm in this for the long terms.  Or that's my goal.  I understand that short term thinkers can come in and do wizardry type stuff  to get their marketing blog ranked high and fast.  However, chances are six months later it's all for naught.  I'm shooting for the long haul.
 5.  Make sure your opt-in is working right
Last week I asked my webmaster in the Philippines to check up on our opt-in form on the blog to make sure it was working right.  I'm barely getting any searches at this point, so it's not a big deal. But I DO want to make sure it's working and start seeing a trickle of opt-ins here and there.
Of course, six months to a year from now, I want to be seeing a lot of opt ins.
6.  Make sure your blog's BOUNCE RATE is fantastic
By writing some longer blog posts or putting videos on your blog posts, you make sure your bounce rate is LOW, which is what Google and other search engines like to see.  In marketing my blog, this was one of the first things I thought about — How am I going to get the bounce rate DOWN!
You'll notice I also have social signals.  While I'm NOT a social media marketing blog, I want to take all the advantage I can of social sharing, Facebook comments and all the like.  I aspire someday to be a top 10 marketing blog — but that's a 1 to 2 year timeline.  I have to see if I can STICK to my blogging schedule.
7.  Get consumption of your blogging content
I'm a little disappointed in the response of my list to consuming my blog posts and interacting.  I was emailing out daily new blog posts to my list.  I noticed the opens and clicks went down more than I felt comfortable with.  I guess I won't be doing that.  To me it's a real shame because I did NOT outsource the content. It's all 100% me.  And for my two cents, the content, while brief, is top notch and, most importantly, REAL.
In the ideal world, you notify your list about your blog posts and they eat it up, ask questions, interact and comment.  Now, I HAVE gotten good FACEBOOOK LIKES and comments from my blog marketing efforts here.  However, I noticed they were trending down.
8.  Is your blog SABOTAGED?
When I checked Google Webmasters, I found someone had filed a complaint against my blog. This was deliberate and malicious.  I used the Google response form and easily got it taken care of.  This is why it's so vitally important you READ your NOTIFICATIONS in Google Webmasters!
That pretty much wraps up my ventures at this point.  If you're doing a blog, you MUST know and use Google Webmasters tool! It's very simple to use and will give you a ton of extremely valuable information of great use to you in your blog marketing adventure.
The way I know to do more blog posts on a topic is if you like, comment and share. That is how you vote for the topics you want to see me do more videos on! So if you got value out of today's video and blog post, let me know. If you have a topic you WANT me to do a blog post on, then post that in comments also.

You can also watch my videos on YOUTUBE HERE: See it here.

Marlon Sanders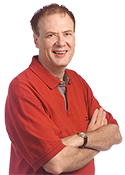 Customer Support: http://getyoursupport.com
Affiliate info: http://promotemarlon.com
Please like, share and comment if you want to see me do more videos on the topic as this one. Have a QUESTION you'd like me to answer in a blog post? Post it in comments below.

PS: If you are starting a blog or want to, you NEED this now: check this out.
Some links on my blog are affiliate links. If you got value out of the Internet marketing lesson on today's blog post and video on Blog Marketing Tips and Secrets, please like, comment, share, Stumble or Digg.
=====================
Blog Marketing RESOURCES
=====================
Get all the basics on how to do graphics the REAL WAY using PSD's from Photoshop Elements, so later you can graduate to full-blown Photoshop. This is very basic but really, really good training in just the core stuff you need to START OUT with. This is training wheels for graphic design. You won't become a pro overnight. But this gets you on the RIGHT PATH and that is the PURPOSE. We updated screen caps last year. None of the basics in Photoshop Elements change much. You got a lasso. Paint bucket. Patterns. Gradients. This is what we teach here. BASICS. To me, if you're really SERIOUS and don't want to just hire out all graphics, you need this.
http://www.designdashbooard.com
Get "training wheels" to walk you through my famous 12-step formula I taught around the world in 120 seminars Fill in the blanks and click a button.
The ORIGINAL fill-in-the-blanks letter software. This is NOT about magically creating sales letters. It's like TRAINING WHEELS for my 12-step formula to FORCE you to use it and walk through the process mentally. I found in teaching this in 120 seminars that people would not actually DO the formula I taught. So I decided to create a way to FORCE FEED it. THAT is why I created Push Button Letters that then spawned the whole entire genre of sales letter creation software, MOST of it sold as a magic pill without understanding the GOAL which is to get you to MENTALLY PROCESS and walk through a precise, step-by-step FORMULA.
http://www.pushbuttonletters.com
The exact things I taught a new employee to get him up to speed on all this marketing stuff in 30 days. And will get YOU up to speed on the absolutely criticall basic knowledge also. Get up to speed FAST with the in-house training I gave one of my new employees. I love this product. To me it's Evergreen. The stuff I teach here is what I feel is absolutely VITAL for anyone to know, including a new employee, new customer or whoever. That includes you. This is BASIC but powerful training. I find a LOT of people miss the BASICS, so they get no value from other stuff they buy. You HAVE to put in your basics FIRST http://www.themarketingdiary.com
Want to know how I got 30,000 affiliates to promote me? I love this product also. It's how I got several million people to my websites. It includes the steps, the documentation, everything. Now, yes, I did this product some years ago. You'll find out the things I do, teach and believe in are EVERGREEN. The answer is NO. It's not outdated. YES, everything in it STILL applies. Do I STILL use everything you'll read about it in it. It's my BLUEPRINT for a highly successful affiliate program. Check this puppy out:
http://www.1in102.com
Need a target market? http://www.pushbuttontargetmarket.com
If you're struggling to find a target market, I think this can help. It isn't the ONLY thing you need. It isn't like "the answer." But I really think if you delve into the tool it talks about that you can really gain a deeper understanding of what is SELLING in the market. That is the purpose of it.
Money Getting Secret: On December 3, 1998, I Discovered A "Money Getting" Secret That I've Repeated 122 Times — And You Can Use This Same Secret Starting 2 Hours and 58 Minutes From Right Now! http://www.marlonsanders.com/writerssecret/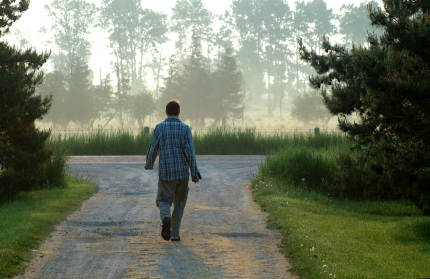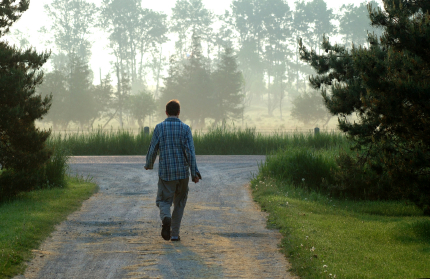 The Road Not Taken
Two roads diverged in a yellow wood,
And sorry I could not travel both
And be one traveler, long I stood
And looked down one as far as I could
To where it bent in the undergrowth;
Then took the other, as just as fair,
And having perhaps the better claim
Because it was grassy and wanted wear,
Though as for that the passing there
Had worn them really about the same,
And both that morning equally lay
In leaves no step had trodden black.
Oh, I marked the first for another day!
Yet knowing how way leads on to way
I doubted if I should ever come back.
I shall be telling this with a sigh
Somewhere ages and ages hence:
Two roads diverged in a wood, and I,
I took the one less traveled by,
And that has made all the difference.
Robert Frost
If you got value from this Marlon's Marketing Minute newsletter about blog marketing, please tell me in comments, then like and share.